Change your world
Be part of the Masterpiece Movement
Calling all misfits, crazy ones, artists with wild ideas, and visionaries... anyone who has ever been rejected. Humanity needs you to create your Masterpiece.
We believe being rejected is a strength. It means you don't fit in and forces you to think different. And that's what humanity need right now. It needs people like you to create your Masterpiece.
You cannot change the world. That's an illusion. You can only change your world. And that journey starts with you creating your Masterpiece.
A Masterpiece is the greatest contribution you can make to yourself your family and society. It could be a book, a job, a business, a retreat, a relationship. Whatever it is, it changes your world for good.
You can't do this alone, which is why we created this journey.  WorldClass coaches and others in a similar place on their journey will accompany you.
A single tree on a hill with shallow roots is more likely to blow over when a storm arrives than a tree surrounded by similar trees in a forest. The roots intertwine to create a stronger foundation for all and they share the nutrients between themselves so all trees grow to the same height. 
Together a forest forms a canopy above them that retains the minerals, sustains complementary species and ultimately—if the forest gets big enough—changes the climate by inducing rain.
Join us today, and I commit to helping you to become whole again so it is inevitable you create your Masterpiece and change your world for good.
The Four Elements of a Masterpiece
Become whole again
1 -Health

Magically create more time by changing your relationship to time so you cultivate ground fertile enough to sow the seed of your Masterpiece.

2 - Influence

Unleash your creativity by changing your relationship to power so you create a Masterpiece that grows your influence.

3 - Love

Embody love by changing your relationship to love so you attract your soulmate and a community of champions.

4 - Wealth

Generate conscious wealth by changing your relationship to money so your Masterpiece generates true wealth.
The Program
What we cover
01

PREVIEW—Creating your Masterpiece

02

Module #1 | PURPOSE & POWER | Jean-Philippe Challandes & Alexander Inchbald

Introduction and overview of Module #1

The Inner | Outer Game: how you can change your world for good

The Vicious Cycles: how we get out of balance

The Infinite Loop: how we bring our Purpose to life

The Portal to Transition: how to change your world (Impact, Love, Wealth, Health)

The Keys to Transition: articulating your Personal Purpose

Your Power Biography: your relationship to power

Your Power Associations: what you associate with power

CONCEPT: Simplified journey of consciousness

LIVE Session: Changing our relationship to Power and Purpose

03

Module #2 | MISSION & ARTIST PROFILE | Alexander Inchbald & Allison Ross

Introduction and Overview of Module #3

Discovering The Artist Profile: what are your strengths?

Defining Your Artist Profile: how do you create?

LIVE Session: Your Mission and Artist Profile

04

Module #3 | MONEY & RECLAMATION | Peter Koenig & Alexander Inchbald

Introduction and overview of Module #2

Your Money Biography: your relationship to money

LIVE Session: Moneywork and Reclamation

05

Module #4| MASTERPIECE | Pete Lonton & Alexander Inchbald

Introduction and overview of Module #4

LIVE Session: Laying the Foundation of your Masterpiece

06

WEEK #1 | POWER | Alexander Inchbald

Introduction

EXERCISE: Buddy Pairings

Using Morning Pages: clearing your mind

EXERCISE: Letting Your Light Shine

EXERCISE: Outshining others

TASK: Shining your light to influence your world

CONCEPT: Reclamation work

INSIGHT: Wendy's Reclamation Vault

CONCEPT: understanding the types of Masterpiece

BONUS: Creating your Masterpiece: what you can learn from painting in nature?

07

Week #2 | LOVE | Alexander Inchbald

Intimate mirrors: who do you resist most?

Choosing our identity: Reclamations on race and gender

Embodying love: when I was the forest

08

Week #3 | MONEY | Alexander Inchbald

Introduction and Overview

EXERCISE: Generating Value

BONUS: Reclaiming anger, death and power (on Valentine's Day)

EXERCISE: Sharing Reclamations

09

Week #4 | Another dimension of TIME | Alexander Inchbald

Introduction and overview

BONUS: Accessing the Unified Field

TASK: Book your coaching call

10

Module #5 | The VALUE you create | Alexander Inchbald

Introduction and invitation

EXERCISE: Identifying the benefits of your Masterpiece

BONUS: Creating balance between Inner and Outer Game

LIVE Session: self-love

11

Module #6 | Creating your MONEY & COMMUNICATIONS SYSTEM | Allison Ross & Alexander Inchbald

CONCEPT: the double spiral Money and Communications Flow

CONCEPT: Vibrational Marketing

LIVE Session: Value Proposition

12

Module #7 | Generating CONSCIOUS WEALTH | Gabriel Uribe & Alexander Inchbald

Introduction - generating money

EXAMPLES: Developing your Money Flow System

EXERCISE: Communications and Money Flow Exercise

LIVE Session: Communications and Money Flow

13

Module #8 | Creating your 100 Day Plan

Introduction to 100-Day Plan

EXERCISE: developing your Action Plan

BONUS SESSION | From seed to ecosystem: how to realize our potential over time

LIVE Session: 100 Day Plan

What will you world look like in 30 years?
10 weeks to bring your Masterpiece to life
8x 90 minute sessions by Zoom with WorldClass Coaches

10x weekly 90 minute content sessions

3x 90 minute bonus sessions on becoming a bestselling author

Access to a community for questions

Weekly calls with buddies

Access to 20 hours of videos, apps and tests

2x 60 minute 1:1 calls to review progress

Invitation to join #Masterpiece Manifestation Monday Sessions
Coaches
Learn from WorldClass Coaches
I help pioneers to create their Masterpiece—their portal to a sustainable world. Over the last few years, I have helped thousands of leaders articulate their Purpose and create their Masterpiece. I have worked on all of the United Nations Sustainable Development Goals for orgnanizations like the United Nations, WHO, UNICEF, Gavi, The Global Fund, the International Committee and Federation of the Red Cross, HP, Roche and Samsung. My insights are based on painting in extreme locations all over the world. They taught me when I stop resisting the environment no matter how extreme it is - blizzards, gale force winds, tropical storms - it stops resisting me. In this moment, there is no separation between me and our world—we are creating it every moment of every day. I published my second book #Masterpiece in 2020 and became a bestselling author. I have also contributed to two other bestselling books. I founded The (artist) inside, am a partner of Ashoka, a facilitator of Scotland's first Business Decelerator on the Isle of Bute, a Master Trainer at the Entrepreneur's Institute, the largest community of entrepreneurs in the world. I am also a certified energy healer and NHR practitioner. I live in Switzerland with my beautiful wife and two wonderful children, Sasha and Daniel.
Alexander Inchbald
Extreme Artist and Founder of the #Masterpiece Movement
Coaches
Learn from WorldClass Coaches
Peter frees people from money blocks. He has been developing tools and systems to accelerate consciousness and human development for leaders for 40 years. He is an expert in Seminal Thinking, Behavioral Finance, and Organizational Architecture, and at the heart of his expertise is a series of deep insights on our relationship to money, the realization of Personal Purpose, organization and succession. His approach leads to increased self-knowledge and harmonization of monetary and life goals, an ability to handle a wider range of financial situations with competence an fresh ways of approaching topics as wide ranging as investment, the creation of money, insurance and an overarching view of money, past, present and future. He was a pioneer of Purpose work, the Open Space movement and organization transformation in the 1980s. His moneywork emerged out of the realization that the relation to money, a sensitive and taboo topic for most people, needs to be integrated into these processes. He is an Englishman, who was born shortly after WWII of Czech and Austrian parents, who lives in Switzerland with his life partner, Barbara.
Coaches
Learn from WorldClass Coaches
Professor Dr. Jean-Philippe Challandes has spent the last 30 years exploring our relationship to power. He has a surgical ability to identify with precision what is blocking you from fulfilling your creative potential. He connects the dots between personal development, leadership improvement and sustainable business by drawing on a wealth of knowledge studying the transition to the post-crisis world. He teaches at the Bachelor's, Master's and MBA level at Business School Lausanne. For the last 20 years, he has taught a vast array of audiences – from children to adults – in a diversity of cultural and institutional contexts, including Bachelors, Masters, MBA and doctoral seminars. Originally a specialist of the Nation and State building process, he holds a PhD in Political History from the University of Brasilia. His 6 years of high-level international research led him to an international post-doctoral project that was completed at University Paris-Sorbonne. An expert of what is commonly described as "Modernity" – he increasingly became fascinated by Human Development both at collective and individual scales. Also operating as an independent consultant, he developed an approach strongly focused on values, which are as relevant to organizations as they are to individuals.
Professor Jean-Philippe Challandes
Professor of the Future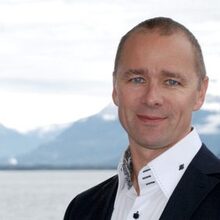 Kari Aina Eik helps business contribute to creating a sustainable world. She is the Founder of United Cities, based in Vienna, which is a global business platform facilitating cooperation between enterprises, investors, governments, international organizations and funding institutions. She is Secretary General of United Cities Funds and OiER. Kari spent the first 25 years of her career working for the United Nations. She now coordinates 17 UN agencies and is developing the largest fund to realize the UN Sustainable Development Goals within cities. Her skill is to hear someone's unique talent and contribution to humanity and then help them to bring it to life.
Kari Ain Eik
Founder of United Cities
Coach, author, international speaker, present father and husband. After creating and losing two businesses in thirties, Gabriel made a tough decision. He chose to follow his calling, and discovered his life mission. Now, he teaches and accompanies others to create wealth without sacrificing their integrity. "CREATE PEACE TO LEAVE A LEGACY OF WEALTH"
Gabriel Uribe
Founder of Business Culture Academy
"I have rediscovered the source of my inspiration - who I am - and I'm so excited about helping hundred of species thrive in the cradle of humanity."
"This program has changed my world in ways I couldn't even imagine - I am closer to my wife, my family and my patients... in short, I love my life again. Writing and publishing a book is a dream come true."
"Alexander helped me to create room in this hectic world to express myself."
29 June to 2 July | 4.30pm-8pm CEST | 10.30am-2pm EDT
Apply now